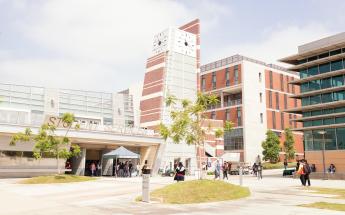 Program Learning Outcomes
The East Los Angeles Kinesiology Athletic Coach Certificate Program will provide an opportunity for students to become certified for employment as high school (walk-on) coaches, but is appropriate for coaches at various levels. In addition to completing the required courses, students must complete the online certification through the National Federation of State High School Associations (NFHS).
Students interested in pursuing a Bachelor's degree, should meet with an academic and/or transfer counselor to discuss transfer requirements.
Important Notice: In the event of a discrepancy between the information presented above and the online and/or print versions of the ELAC Catalog, please contact the Kinesiology Department.
Required Core Courses
This course is an introduction to the discipline of Kinesiology, physical education and physical activity; and examines human movement from the perspectives of experience, research, and professional practice. Topics include: introduction to kinesiology, spheres of physical activity, motor learning, psychology of sport and exercise, biomechanics, physiology of exercise and the history, sociology, philosophy and pedagogy of physical activity. Discussion also includes becoming a physical activity professional and learning about careers in health, fitness, therapeutic exercise, teaching, coaching and sport management.
This course will train and prepare students to recognize and care for various emergencies such as environmental injuries and sudden illness, cardiac and breathing emergencies, bleeding, and traumatic injuries for adults, children, and infants. Upon successful completion of the course, students receive an adult and pediatric first aid/CPR/AED certificate of completion.
This course presents a comprehensive study of the organization and techniques of coaching athletic activities. Topics include facilities, management, budget, coaching techniques, philosophies, and administration.
This course addresses a wide range of moral and ethical issues in sports. Topics include values, principles, racial and gender equity, coaching, commercialization, enhancing stimulants and eligibility, violence, sportsmanship and Code of Ethics in sports. Discussions include perspectives on the ethical issues facing athletes today in youth sports, intercollegiate athletics, Olympic sports, and professional sports.
This course provides students with a chronological history, analysis and interpretation of people, events, and issues that affect women in sports. Physiological, sociological, and psychological aspects of female athletes, as related to all areas of sports, are covered. Students gain an understanding of the significant events of women in athletics from the past to the present and how their significance determines the future of women in sports.
This course provides Kinesiology students a structured internship and opportunity for employment off-campus under the supervision of a faculty member within the Kinesiology Department. Internships enable students to develop an understanding and working knowledge of actual operations, events, planning, and management within the career fields of Kinesiology. The internship experience is an essential component in a student's course of study designed to facilitate the integration of theoretical, applied, and academic subject matter in the field.
Contact Information
Location
Dept. Location: E9-112