Class of 2020​ Student Services Division​ EOPS, CARE & Cafyes/Next UP
Online Chat with the EOPS. CARE & Cafyes-Next-Up
You can chat with the EOPS, CARE & Cafyes-NextUp department by clicking on the chat feature below. Due to FERPA we can only answer general questions, we are unable to provide details about your case.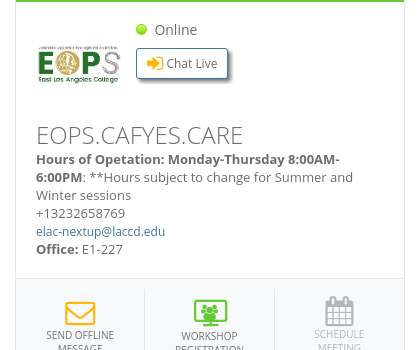 ABOUT NextUP

NextUP formally known as Cooperating Agencies Foster Youth Educational Support (CAFYES) at East Los Angeles College (ELAC) is passionate and committed to supporting the educational journey of current and former foster youth on campus. It is our mission to provide students with the resources and tools needed to be successful at the college level, while understanding and addressing the unique challenges that they may face. Our goal is to keep students engaged and actively involved in their education while scaffolding them through their college journey.
We are excited to offer a program that invites this exceptional group of students to not only attend classes at ELAC, but to develop a personal connection with ELAC staff and faculty, as well as other students. By helping to create an environment of inclusion, students will experience a sense of community and accountability. It is our hope that students will thoroughly enjoy their time here at ELAC, discovering who they are and building relationships that will last a lifetime.
Contact Information
Office Hours and Location
Mondays to Thursdays: 8:00AM - 7:00PM
Fridays: 8:00AM - 4:00PM
Saturdays and Sundays: Closed
Student Services Building (E1 - 227)