Welcome to the Child Development Center
---
ELAC CDC Town Hall Meeting
2023-2024 Enrollment Applications
The Child Development Center is open and working with children on-line during COVID-19 closure at East Los Angeles College.
The 2023-2024 school year enrollment applications are now available on-line. Please complete and save the application as a PDF file document.
Submit the complete application along with all scanned copies of required documents to CDC@ELAC.EDU
2023-2024 Enrollment Application
---
The Campus Child Development Center offers its services to children 2 - 6 years of age.
We accept school-age children up to the Kindergarten. (Fall - Spring only)
Applications are received on a continuous basis for the current school year. Applications for the following year (Summer, Fall, Winter, and Spring Semesters) will be accepted beginning the third week of March.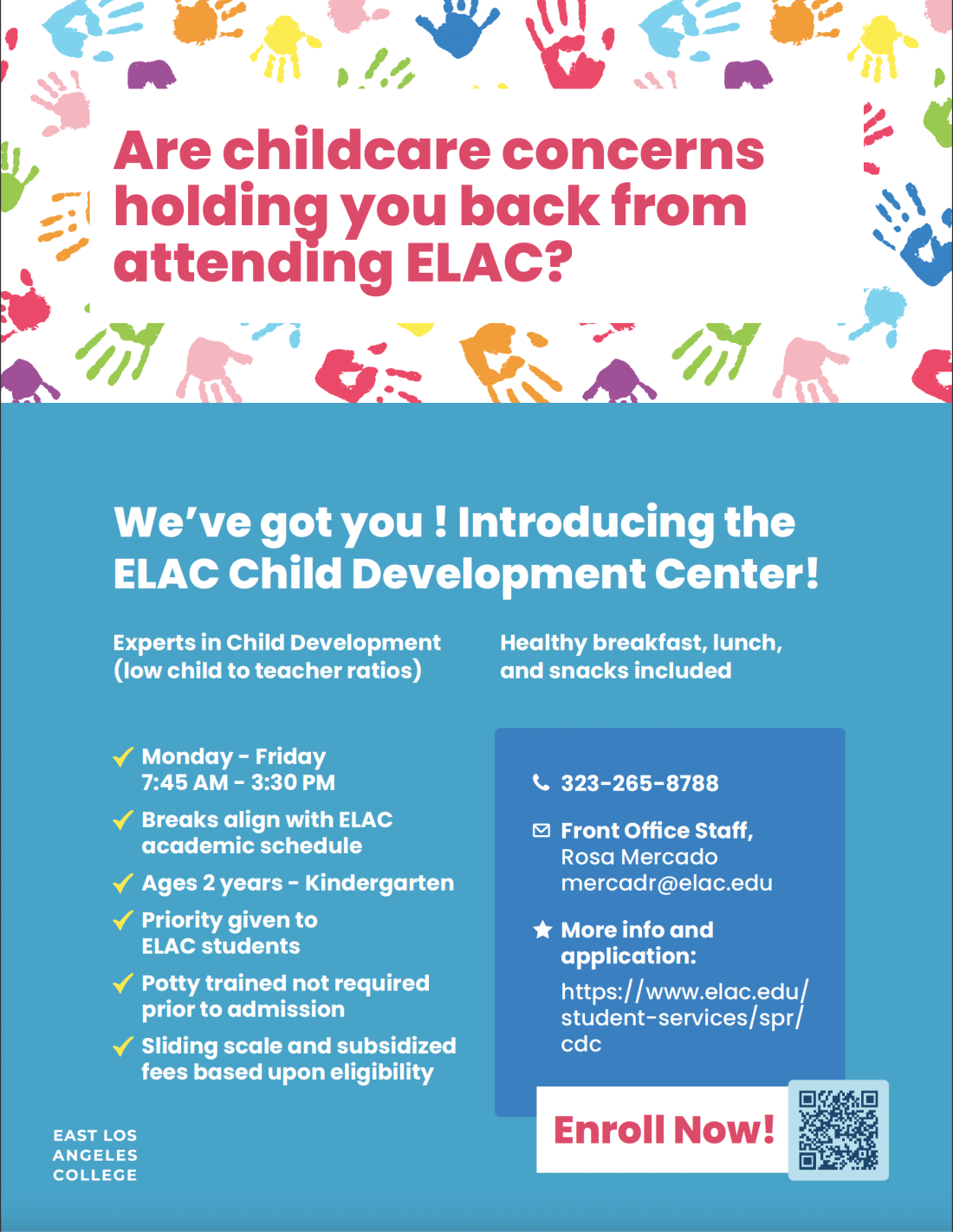 Programs offered: (Fall through Spring)
All Day Program
Ages 2 - 5
Monday - Friday: 7:45am - 3:30pm
---
Morning Half-Day Program
Ages 3 - 5
Monday - Friday: 7:45am - 11:45am
---
Afternoon Half-Day Program
Ages 3 - 5
Monday - Friday: 12:00pm - 4:00pm
NOTE:
A minimum of five days enrollment per week is required for the All Day, Morning and Afternoon Programs.
All Program hours and days are subject to change without prior notice.
We offer breakfast, lunch and snack to all children in our program at no cost during the times they are enrolled. This is a free service of our State funded Child and Adult Care Food Program (CACFP).
The Child Development Center is located on the corner of Cesar Chavez and Bleakwood, at the southeast corner of the Campus. Driving access to the center is off Bleakwood Drive. See the Campus Map for the exact location.
For more information, contact the Child Development Center at (323) 265-8788.
Contact Information
Office Location
A1 Building