We have a lot of valuable resources for students related to online, online synchronous, blended online, and hybrid courses at ELAC.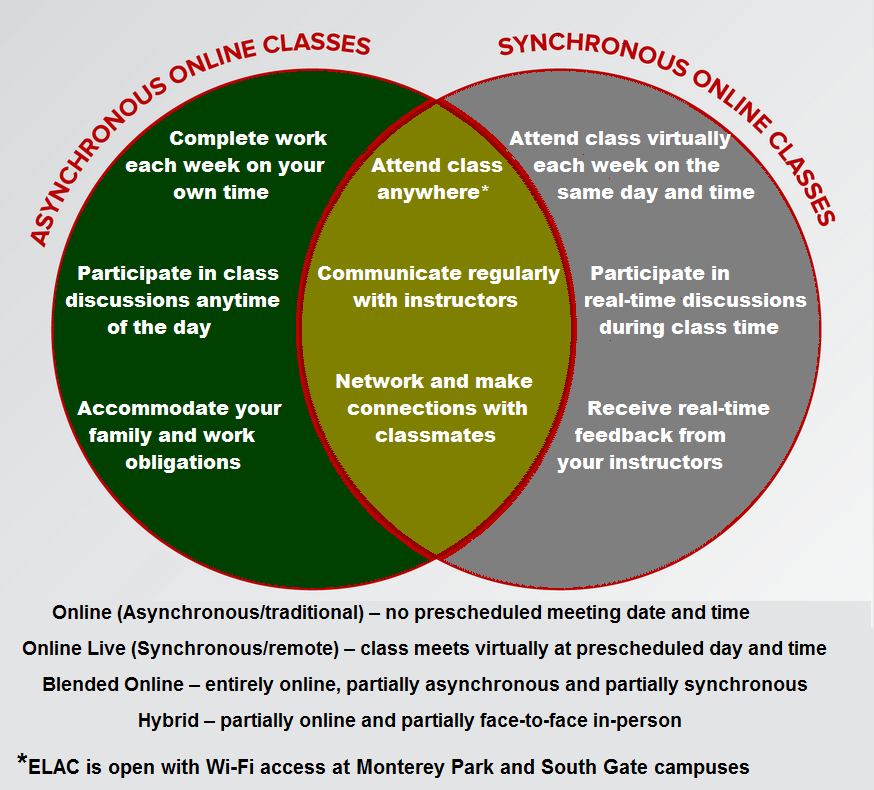 ANNOUNCEMENT: ELAC's Virtual Campus Office is physically closed for walk-in assistance due to the COVID-19 pandemic, but WE ARE OPEN, offering student assistance, 5 days a week by email and phone, as needed.
What is Distance Education?
ELAC's Virtual Campus provides comprehensive services that empower students with skills that are essential to success in online/hybrid courses.
Distance/Remote education is not a new concept. With the introduction of computers, the Internet revolutionized the entire distance learning model. With the success of the Open University classroom idea, educational institutions interested in offering distance education programs started moving to online/hybrid learning.
Online courses at East Los Angeles College are delivered over the Internet using the Canvas learning management system (LMS). These types of courses are called fully online courses. Students sign on to Canvas where they "meet" their instructor, access the syllabus and other course materials, participate in discussions, collaborate with other students, take quizzes and exams, and turn in assignment. Not all, but some, online courses do require students to come to campus to take exams.
Courses which are held both on-campus and online simultaneously are called hybrid/blended courses. Students who take hybrid/blended courses will still go on campus to meet their instructor and classmates just like a regular on-campus class, but they will also do some of the course work online via the Canvas LMS. Some of the blended courses also link out to publishers CMS that allows instructor to enhance the learning experience.
---
To access your online/hybrid courses, please log into the Student Information System (SIS Portal) and click on the "Canvas" tile once you are inside.
---
ELAC STUDENTS - Need assistance with your online/hybrid courses?
Contact ELAC's Virtual Campus for questions or general assistance. Please call the office during business hours (8am to 4:30pm, M-F) at (323) 415-5313 OR email us your questions/concerns at onlinehelp@elac.edu
Student SIS Password Resets (ELAC IT Dept.)
(844) 695-2223
Announcements
ELAC Distance Education Program
You cannot log into your course until the first day of the semester.
Please refer to the Canvas Course Login Info Link on the left hand side set of links for password and login instructions.
For important student dates, please visit the: Academic Calendar
Hours & Contact
Office Hours and Location
Mondays to Fridays: 8:00AM - 4:3PM
Saturdays to Sundays and Holidays: Closed
Address:
1055 Corporate Center Drive
2nd. Floor, Suite 201
Monterey Park, CA 91754