Campus Law Enforcement
Welcome to the East Los Angeles College Campus Safety webpage. YOUR safety is our highest priority. East Los Angeles College, through the Los Angeles Community College District, contracts with the Los Angeles County Sheriff's Department to provide security services for ELAC. The ELAC Sheriff's Station has the authority to apprehend and arrest individuals involved in illegal activity on campus and areas immediately adjacent to the campus. Crimes occurring on campus are investigated by the ELAC Sheriff's Station. The ELAC Sheriff's personnel work with local, state and federal law enforcement agencies, and have access to national crime databases.
---
For Emergencies dial 911. For non-emergencies dial (323) 265-8800
Safety Tips
Please consider the following safety tips:
If you SEE something, SAY something. By working together we all contribute to the safety of our campus.
Always be aware of your surroundings; report any suspicious behavior to ELAC Sheriff's immediately at (323) 265-8800 (please enter this number into your cellular telephone).
Walk with a companion whenever possible. Use the buddy system.
Have keys in hand before walking to your car.
If you feel uncomfortable walking into a secluded area, you can request a Safety Escort anytime by calling the ELAC Sheriff's Station at (323) 265-8800.
Use good judgment: meet new people, including classmates or colleagues, in public places. Don't get into a car or go to out-of-the-way places with someone you don't know.
Always carry a cellular telephone, and consider carrying a whistle or other noise making device that can be used to attract attention or summon assistance.
If you do encounter someone presenting harassing/threatening behavior, immediately go to the nearest occupied campus building to report the incident.
Emergency call boxes are located throughout the campus and are properly marked for immediate recognition. You can see locations of the call boxes on map (attach link to blue phone map).
CAMPUS CRIME ALERTS
---
Crime Stoppers
Sheriff's Dept Info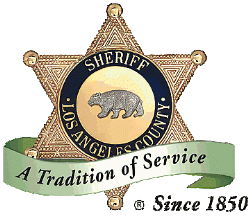 The ELAC Sheriff's Station
Office Location
1301 Avenida Cesar Chavez
Room B5-104
Monterey Park, CA 91754