News Releases & Crime Alerts Bulletins
---
Crime Alerts
The Sheriffs report that several women have been followed to restrooms around the campus.
Call the ELAC Sheriffs at (323) 265-8800 if you need to report an incident. Use the Emergency Phones or dial *80 from any campus pay phone in an emergency.
Recent Crime Alerts
This page will list any new crime alerts for the East Los Angeles College Campus.
To report an incident, you can reach the ELAC Sheriff's Station by calling (323) 265-8800, dialing *80 from any campus pay phone, or using the Emergency Phones located around the campus. The Emergency Phones will connect you directly to the ELAC Sheriff's Station. These Emergency Phones have a blue light and can be found at the following locations:
The northeast corner of the C1 Men's Gym
The E1 Breezeway (the 4th pillar on the northwest side of the Breezeway)
The west end of the E5 Building
The southeast corner of the E9 Women's Gym
The northeast corner of the P1 AutoTech Building
The northeast corner of the K5 Music Building
Campus Crime Alerts
---
Crime Stoppers
Sheriff's Dept Info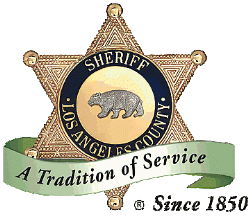 The ELAC Sheriff's Station
Office Location
1301 Avenida Cesar Chavez
Room B5-104
Monterey Park, CA 91754