LACCD Cadets
---
ELAC Sheriff's Station
NOW HIRING CADETS
Start your career in law enforcement with us
---
The Cadet position is an hourly, part-time, without benefits, uniformed, non-sworn peace officer position with the Los Angeles Community College District assigned to a specific campus.
Under the direction of the L.A. Sheriff's Department and L.A. Community College District personnel, the campus Cadet position will provide a full range of services to the campus community. These services include, but are not limited to: safety services, escort services, law enforcement police desk operations, public relations, clerical/administrative support, investigation assistance, property collection, crime prevention, parking enforcement, hand-held radio use, and other related campus duties.
This position may be assigned to assist with security for special events related to the College or the District including special parking enforcement and traffic direction. The Cadet is expected to work during a 24 hour/seven-day-a-week schedule and may include working on holidays. Cadets will receive related training necessary to perform the job.
Students who wish to become a Cadet can contact the ELAC Sheriff's Station located at the ELAC Stadium (B5-104); you can fill out a Cadet Interest Card and drop it off at the station office; or you can call the station at (323) 265-8800.
Campus Crime Alerts
---
Crime Stoppers
Sheriff's Dept Info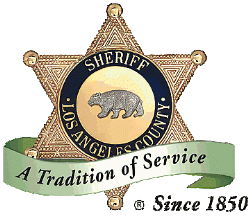 The ELAC Sheriff's Station
Office Location
1301 Avenida Cesar Chavez
Room B5-104
Monterey Park, CA 91754