ELAC Automobile Technology Department Awarded GLANCDA $10,000 Grant
February 3, 2023
FOR IMMEDIATE RELEASE
February 3, 2023
News Media Contact:
Kevin Jimenez, College Public Relations Manager
(323) 265-8807 | jimeneka@elac.edu
ELAC Automobile Technology Department Awarded GLANCDA $10,000 Grant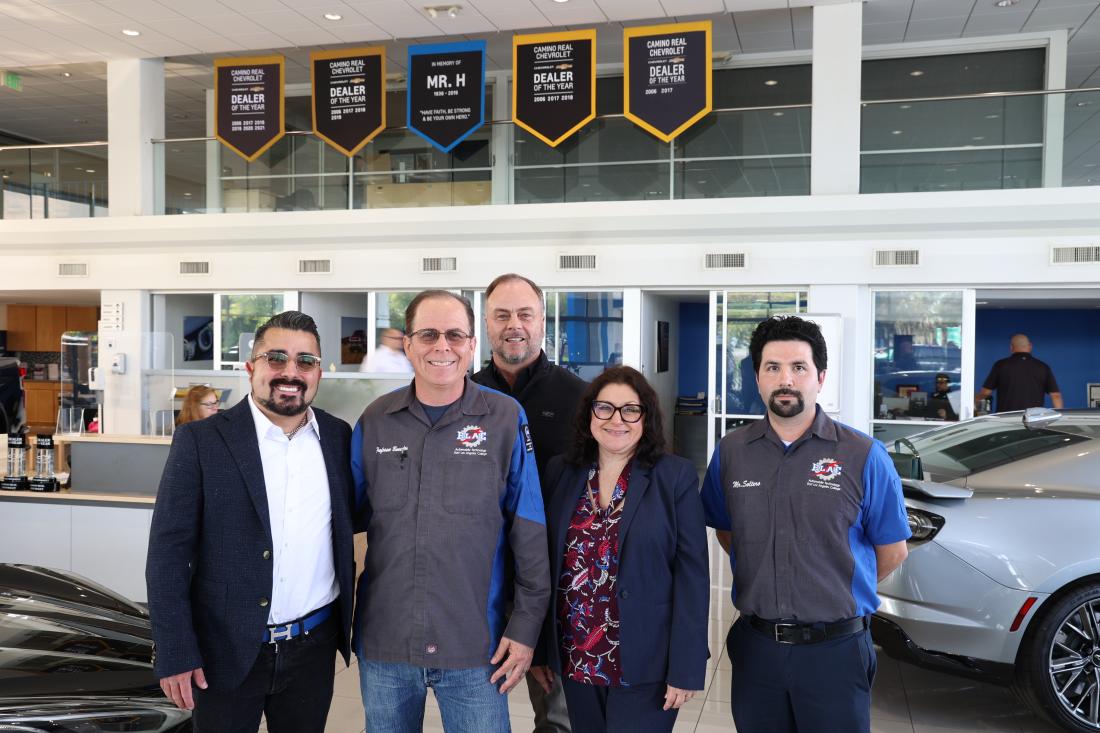 (From left to right Camino Real Chevrolet President Robb Hernandez, ELAC Auto Tech Department Chair Adrian Banuelos, GLANCDA Executive Director Bob Smith, ELAC Interim VP of Liberal Arts and Sciences Mercy Yanez, and ELAC Auto Tech Department Professor Oswaldo Soltero pose for a photo at Camino Real Chevrolet)
MONTEREY PARK, CA – East Los Angeles College's (ELAC) Automobile Technology Department was recently awarded a $10,000 grant from the Greater Los Angeles New Car Dealership Association (GLANCDA). The money from this grant will be used for student scholarships and electric vehicle test equipment so ELAC Automobile Technology students can continue to use the latest technology.
The ELAC Automobile Technology facilities are second to none. Students use state-of-the-art tools and equipment. Hands-on laboratories combined with lectures that describe all the mechanical systems of modern cars and the latest computer assisted repair and testing equipment prepare students to transition easily into automotive dealerships or independent repair shops.
"I am proud of our Auto Tech Department and their achievement today. These vital grant funds will be used to help ensure our students get top-of-the-line training while attending ELAC," said ELAC President Alberto J. Roman. 
Students may enter the program with no prior experience and build their skills, so they are able to diagnose and repair today's sophisticated automobiles. Faculty members are (Automotive Service Excellence) ASE Master Technicians with many years of experience in the auto industry.
"GLANCDA is so proud of the long-term relationship we have had with ELAC. They are doing a great job educating young auto technicians and there is a great demand for them in the world. This kind of partnership is what will give future technicians not only a job but a career in the automobile business," said Bob Smith, Executive Director for GLANCDA.
ELAC Automobile Technology students learn all aspects of automotive repair in a comprehensive program that prepares them for ASE Certification and offers students industry-driven Snap-on equipment certification. The Automobile Technology program is an ASE Master Certified program in all eight areas of auto repair and is housed in a state-of-the-art facility with a full range of sophisticated auto diagnostic equipment, computers, engine components, smart classrooms, an information library, and other specialized repair equipment. The ELAC Automotive Technology program offers accelerated fast-track, short-term, (5-week courses) scheduling and job placement. To learn more about the program visit their website at https://www.elac.edu/Academics/Departments/Automotive-Technology. 
ELAC is the largest of nine two-year community colleges within the Los Angeles Community College District (LACCD), www.laccd.edu.  More information about ELAC is available online at http://www.elac.edu/.  Follow ELAC on social media, Facebook @Eastlacollege, Twitter @Eastlacollege, and Instagram @elacauto.