ELAC Celebrates Class of 2023
June 8, 2023
FOR IMMEDIATE RELEASE
June 8, 2023
News Media Contact:
Kevin Jimenez, College Public Relations Manager
(323) 265-8807 | jimeneka@elac.edu
ELAC 2023 Commencement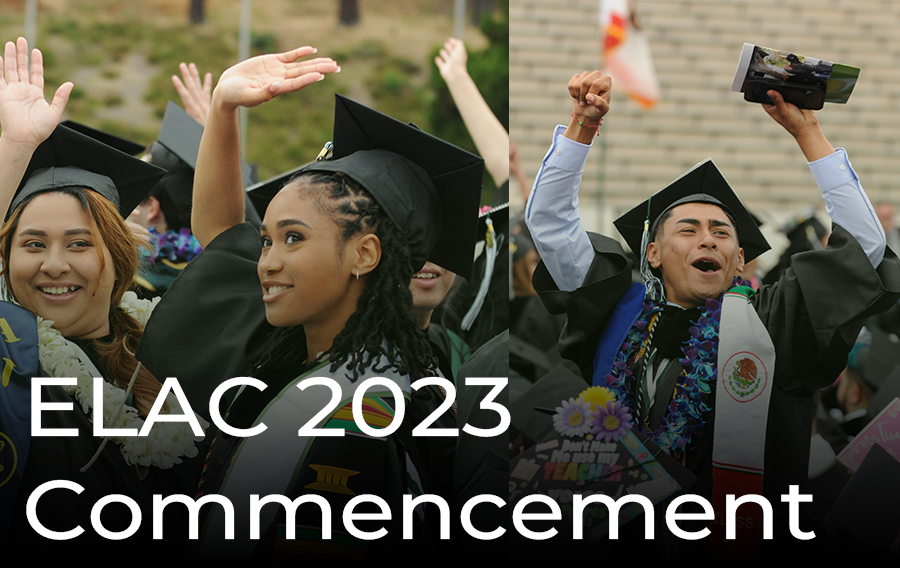 MONTEREY PARK, CA – East Los Angeles College (ELAC) hosted over 10,000 people in Weingart Stadium on Tuesday, June 6th, 2023 for the commencement of the 2023 class. Over 1,000 ELAC graduates crossed the stage and were joined by ELAC Faculty, Staff, and Administrators who celebrated their academic success. 
ELAC President Dr. Alberto Román was joined by Los Angeles Community College District (LACCD) Board of Trustees President David Vela, ELAC Faculty and Academic Senate President Jeffrey Hernandez, LACCD General Counsel Maribel S. Medina, ELAC Associated Student Union President Steven Gallegos, and 2023 Student Graduation Speaker Annette Lesure in giving remarks to the class of 2023 and each gave advice and wisdom.
"You each have your own unique narrative and dreams and that is what makes each of you special. Life is not about what others want and expect from you. It is about what you want and expect for yourself. I want to remind each of you that you are always in control of your life and future and you should never give that up," said ELAC President Alberto J. Román
"We are more powerful united and I cannot wait to see how you as students are going to take the future into your hands and make it better for you and your community. It is true that one member of the family who earns a degree can lift up the whole family. Whatever it takes to achieve you goals go and do it and know you have the support of the Los Angeles Community College District," said LACCD Board of Trustees President David Vela.
Annette M. Lesure was the 2023 Student Speaker and she is an Indigenous Mexican American born in the Rio Grande Valley. Her family moved from Texas to California in 1987, where she joined the Screen Actors Guild union, and spent 30 years working as an actress but with little talk of education. 
In 2020, her son was in high school, and Annette knew it was time for change. She registered for what she thought would be one piano class just moments before the pandemic began. Once in quarantine, Annette suddenly found herself as a full-time student at ELAC and striving to be a model of success for her son. Annette is also an anxiety and PTSD warrior and was guided by ELAC's Diversabilities Student Program and Services (DSP&S).
"I want to make sure that anyone listening today knows that regardless of age, race, color, disability, gender, sexual orientation, or background you can succeed here at ELAC as long as you bring your desire because it is never too late to educate," said Lesure.
What was once a pipeline dream, manifested into a reality. Now at the age of 50, Annette is transferring with an AA-T in Journalism and an AA-T in Spanish. She will be pursuing her BA in Communications, followed by a Master of Social Work Degree, and endgame of Law School. Annette will remain an active ELAC student next semester as she will proudly continue in her Pathways to Law School program.
The graduation was also livestreamed online for any friends and family who could not make it the day of graduation. It can be viewed on the ELAC YouTube page via the following link www.youtube.com/live/G6rNB7hXrhw
About East Los Angeles College  
ELAC is the largest of nine two-year community colleges within the Los Angeles Community College District (LACCD), www.laccd.edu. More information about ELAC is available online at http://www.elac.edu/. Follow ELAC on social media, Instagram @ELACHuskies, and Facebook @Eastlacollege