ELAC Honored as a Champion of Higher Education: Leading the Way in ADT
November 1, 2023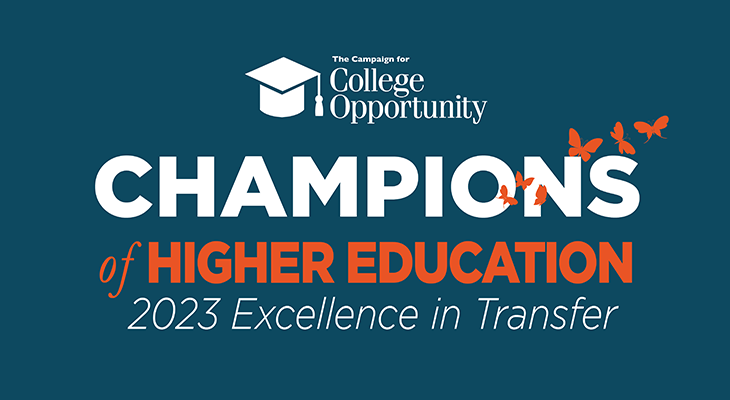 FOR IMMEDIATE RELEASE
Kevin Jimenez, College Public Relations Manager
(323) 265-8807 | jimeneka@elac.edu
ELAC Honored as a Champion of Higher Education: Leading the Way in ADT
MONTEREY PARK, CA – East Los Angeles College (ELAC) has been named a 2023 Champion of Higher Education by the Campaign for College Opportunity. Recognizing the campus' exemplary work in implementing the Associate Degree for Transfer (ADT).
ELAC is one of only 18 California community colleges to be selected as a Champion of Higher Education and one of only three community colleges to earn the honor for excellence in ADT. 1,306 total Associate Degrees for Transfer were awarded to ELAC students in the 2021–22 academic year.
"East Los Angeles College continues to be a leader in ADTs because we recognize the importance of having our students fulfill transfer requirements and earn their bachelor's degree much quicker once transferred to a CSU. Thank you to our Husky faculty and staff for making this great accomplishment a reality for our college," said ELAC President Alberto J. Román.
The Associate Degree for Transfer is an instrumental pathway that has streamlined the transfer process for over a decade. Though community college is often thought of as a two-year stepping stone to a university, the lived  experience of students indicates otherwise: many are caught in a confusing maze, navigating varied course requirements and inconsistent guidance to achieve their transfer goals.
In response, the Campaign for College Opportunity championed SB 1440 (Padilla) in 2010, creating the ADT pathway. Today, the ADT has impacted the lives of nearly 490,000 students by supporting them on a faster road to transfer with guaranteed admission to the CSU system, saving students valuable time and money. And, though new research indicates that California still must make progress to support transfer students, the ADT has shown promising results: students who successfully transfer show greater use of the ADT, and more Latinx and Black students are choosing the ADT as their preferred transfer pathway.
"For nearly a decade, the ADT has given community college students struggling to navigate a complicated transfer maze a clear path to success with a degree to show for their hard work. As colleges grapple with pandemic-induced enrollment declines, we laud the 27-community college and CSU campuses that continue to forge ahead for students by strengthening the transfer pathway and removing unacceptable equity barriers in transfer for Latinx, Black, and first- generation college students across the state," said Jessie Ryan, executive vice president of the Campaign for College Opportunity and former community college transfer student.
The following colleges and universities are honored as the 2023 Champions of Higher Education for Excellence in Transfer for working with intentionality to support students through the implementation of the ADT across various metrics. Learn more
Bakersfield College

East Los Angeles College

Mt. San Antonio College

Mission College

San Joaquin Delta College

Madera College

Evergreen Valley College

Berkeley City College

Citrus College

Clovis Community College

Grossmont College

Moorpark College

California State University, Fullerton

California State University, Long Beach

California State University, Los Angeles

Sacramento State University

Stanislaus State University
ELAC will be recognized during the virtual 2023 Champions of Higher Education Celebration on Tuesday, November 14 from 10:00 a.m. to 11:30 a.m. via zoom. This event is open to all, and participants will include some of California's most ambitious student leaders, higher education advocates, legislative champions, corporate sponsors, and civic and business leaders.
About Campaign for College Opportunity:
The Campaign for College Opportunity is a California non-profit bipartisan policy and research organization focused on a single mission: to ensure all Californians have an equal opportunity to attend and succeed in college in order to build a vibrant workforce, economy, and democracy. For more information, visit http://www.CollegeCampaign.org, Facebook.com/CollegeCampaign or follow @CollegeOpp.
About East Los Angeles College  
ELAC is the largest of nine two-year community colleges within the Los Angeles Community College District (LACCD), www.laccd.edu. More information about ELAC is available online at http://www.elac.edu/. Follow ELAC on social media, Instagram @ELACHuskies, X @EastLACollege, and Facebook @Eastlacollege.