ELAC Students Win Awards at CA Geographical Society Conference
May 9, 2023
FOR IMMEDIATE RELEASE
May 5, 2023
News Media Contact:
Kevin Jimenez, College Public Relations Manager
(323) 265-8807 | jimeneka@elac.edu
ELAC Students Win Awards at CA Geographical Society Conference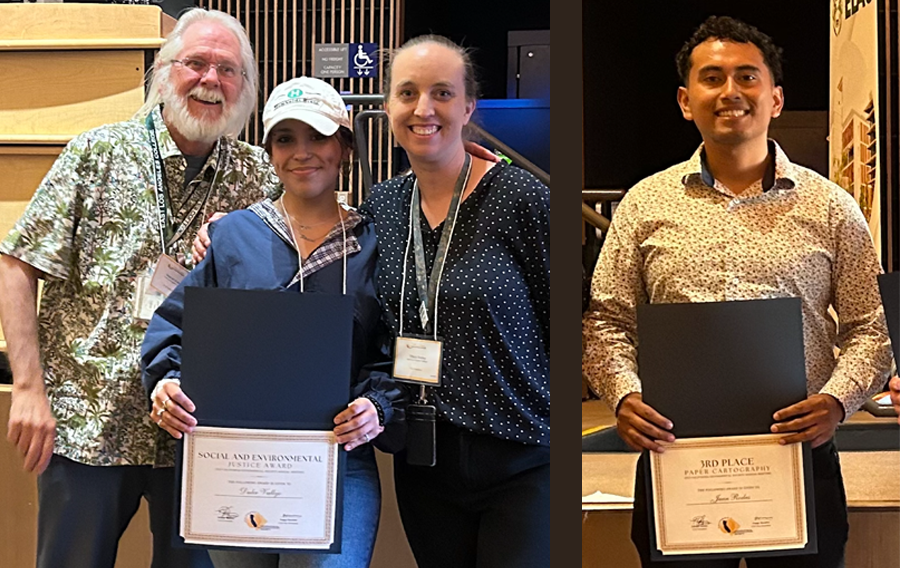 MONTEREY PARK, CA – A current and a former East Los Angeles College (ELAC) student earned awards during the 77th annual California Geographical Society (CGS) Conference hosted at the ELAC campus in April 2023.
Founded in 1946, the California Geographical Society is the oldest statewide geographic organization. They promote the interaction between academic and applied geographers, as well as members of the general public who share an interest in geography. The annual conference feature high quality scholarship from student geographers, professors, and professional geographers from the public and private sectors in a supportive environment.
Dulce Vallejo won the award for Outstanding Paper in Social and Environmental Justice for her presentation on Indigenous Pedagogy-Rethinking the CA Mission Project. She competed against both undergrad and graduate students and the award also came with a $500 prize. Dulce graduated from ELAC in 2020 and transferred to Cal Poly Humboldt where she will be graduating with a Bachelor of Arts in Geography.
Juan Rodas, won 3rd place in the cartography competition for his map on Illegal Dumping in Boyle Heights. Juan was competing against upper division undergraduates from 4-year institutions and it is uncommon for community college students to be awarded. It's uncommon for community college students to present at this conference - most of the maps, papers, and posters are from upper-division undergraduates who have already transferred to 4-year institutions. Juan is studying Engineering at ELAC and hopes to transfer to Cal Poly Pomona.
"We are so proud of the hard work and dedication both Dulce and Juan put into their research and presentations at the California Geographical Society Conference!  They competed against some of the best geography students in the state!" Said ELAC Associate Professor of Geography and CGS President, Tiffany Seeley. "The conference also provided a fantastic opportunity for current ELAC students to learn about current research in the discipline, network with their peers and faculty from campuses across California, gain valuable experience attending and presenting at an academic conference, and inspired them to envision achieving similar academic accomplishments for themselves in the future! It was such an honor to host this conference at ELAC and be able to showcase our campus and amazing students to the wider academic community of California geographers."
About East Los Angeles College  
ELAC is the largest of nine two-year community colleges within the Los Angeles Community College District (LACCD), www.laccd.edu. More information about ELAC is available online at http://www.elac.edu/. Follow ELAC on social media, Instagram @ELACHuskies, and Facebook @Eastlacollege.