Three ELAC Honors Students Present at Research Conference
March 28, 2023
March 28, 2023
News Media Contact:
Kevin Jimenez, College Public Relations Manager
(323) 265-8807 | jimeneka@elac.edu
Three ELAC Honors Students Present at Research Conference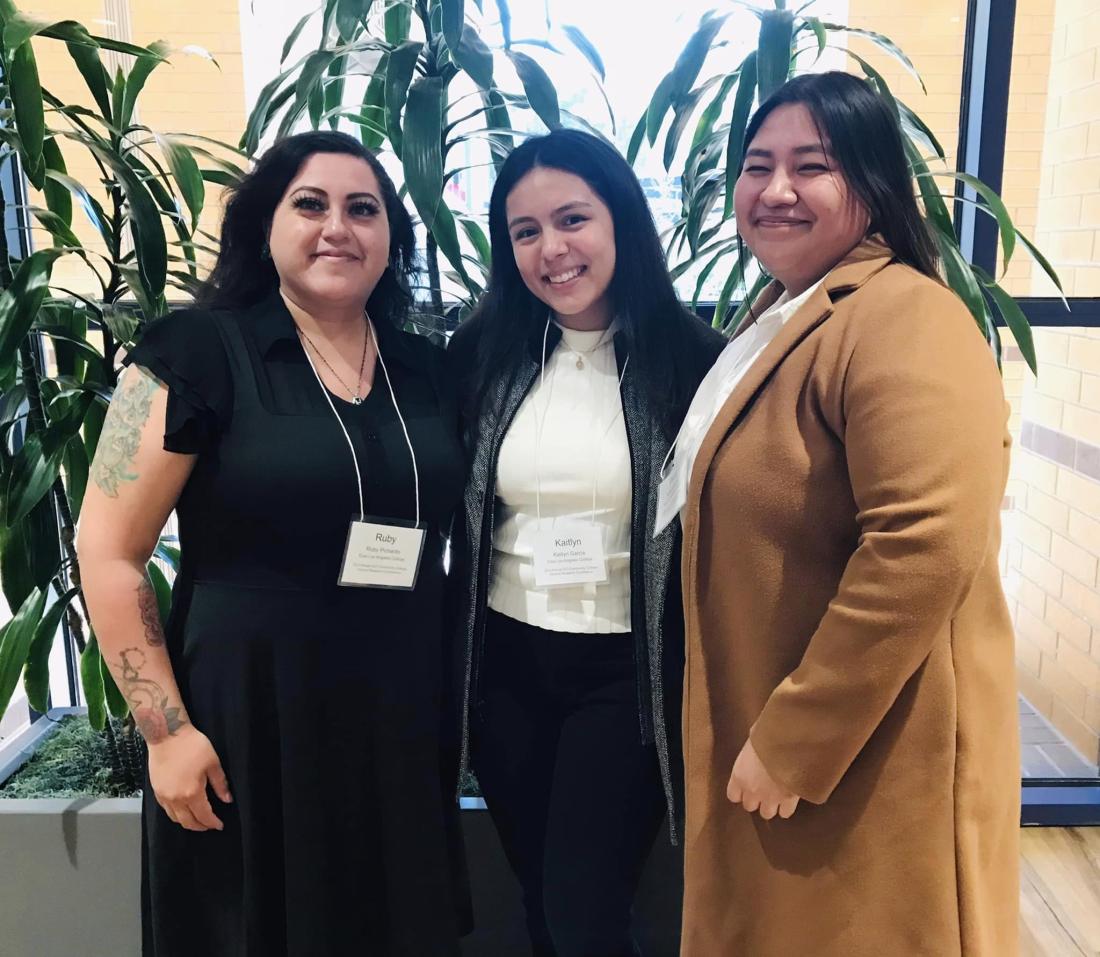 (Left to Right: ELAC students Ruby Pichardo, Kaitlyn Garcia, and Perla Valencia)
MONTEREY PARK, CA – Three East Los Angeles College (ELAC) Honors students presented at the 23rd annual University of California Irvine (UCI) Community College Honors Research Conference on March 26th. These students applied last fall with their research projects and were selected from a highly competitive pool of applicants.
Ruby Pichardo, Kaitlyn Garcia, and Perla Valencia all were mentored by the ELAC Chicano/a Studies Department professor Dr. Nadine Bermudez and each wrote research projects on various subjects.
Ruby's research project was titled "Breaking the System: Tattoos as a Representation of Identity and Resistance" and centered around how tattoos are used to break cultural and social norms with Chicano youth. Pichardo will be transferring with her AA in Administration of Justice this June and is also a semi-finalist for the prestigious Jack Kent Cooke Foundation Undergraduate Transfer Scholarship.
Kaitlyn's research project was titled "The Pursuits of Mexican Immigrant Children: The Development of First-Generation Children in the U.S." and explores the challenges Mexican immigrant children face while living in the U.S. and the impact on their mental health. Garcia was drawn to this topic from personal experience as she is a first-generation Mexican American.
Perla's research project was titled "Community Engagement & Belonging: A Minority Within Minorities" and it examined how many students who are Latino/a but not Mexican can feel excluded at ELAC. She was inspired by her Chicano/a Studies class which helped her to want to explore how Latinos/as feel about their place in education.
"The research these young scholars conducted in my Chicana/o Studies honors class is important. It helped them not only to develop the research knowledge and skills they will need upon transferring to a 4-year university," said ELAC Chicano/a Studies Professor Dr. Nadine Bermudez. "But, more importantly, their work examines the largest ethnic and racial group in the U.S. This is important as they move forward in academia and their respective careers."
UCI's annual conference gives community college honors students the opportunity to present their academic work. It is hosted in partnership with the Honors Transfer Council of California (HTCC) and invites research-based presentations, posters, and creative performances reflecting inquiry into the humanities, sciences, arts, social sciences, and pre-professional programs.
ELAC is the largest of nine two-year community colleges within the Los Angeles Community College District (LACCD), www.laccd.edu. More information about ELAC is available online at http://www.elac.edu/. Follow ELAC on social media, Facebook @Eastlacollege, Twitter @Eastlacollege, and Instagram @ELACHuskies.