Completion Center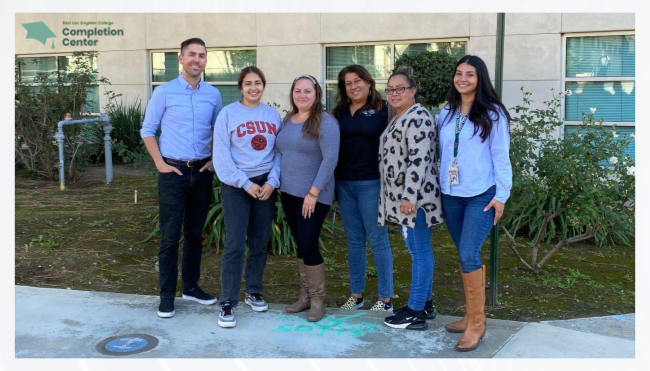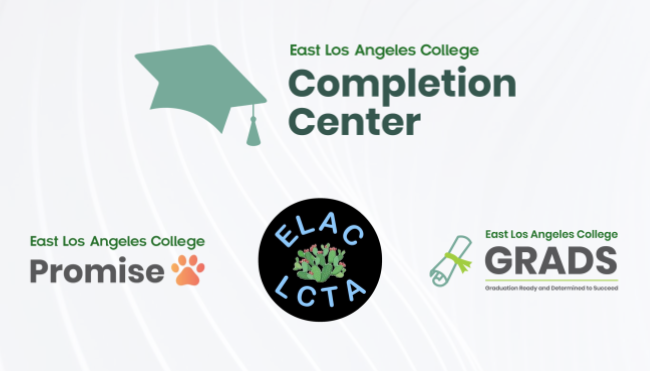 Completion Center
---
Our Mission:
The Completion Center at East Los Angeles College identifies and supports students who are nearing the completion of an Associate's Degree or Certificate of Achievement. By providing individualized case management, educational programming, and connection to vital campus resources, we seek to increase the number of students graduating from East Los Angeles College. Our work encourages students to achieve personal success by accomplishing their educational goals and taking steps to pursue a meaningful career.
Who We Serve:

We support LA College Promise students who have completed 27 units or more. Our students are assigned a unique Completion Success Coach who is always available to help. Our coaches actively follow-up with LACP students to help them stay current with program requirements, share recommendations for success, and keep them on track towards graduation. Your Completion Coach is a guide and mentor who can help you with anything you may need as you navigate college life.
The goal of LCTA is to help students who have 30 units or more obtain and complete a degree, certificate, and/ or transfer. We offer Math, English, and Biology courses with additional support, tutoring, and mentoring to help students succeed. Our holistic approach fosters self-efficacy through culturally relevant teaching and learning that empowers and supports Latina students and families. Click here to apply to the LCTA Program today.
At the beginning of each semester, we identify students who have completed more than 30 units, are on-track towards graduation, and are not being served by other ELAC programs. Many of these students will be paired with Completion Coach, and others will receive regular updates and recommendations from the Completion Center. Students receive personalized information to help them stay on track towards graduation. Our coaching sessions cover details related to graduation, personal and transfer-related goals, resources, and general student life.
Schedule a Coaching Session:
Interested in meeting with a Completion Success Coach? Our staff are available to guide and assist you with important information and connection to helpful resources. We welcome you to set an appointment by contacting us through the contact cards below or by contacting the ELAC Completion Center Email: completioncenter@elac.edu Phone: (323) 415-5366.
Meet Your Peer Navigators:
Peer Navigators are college students who work in the ELAC Completion Center and are knowledgeable about resources and navigating college life. Our Peer Navigators understand what it is like to be a college student and will be working with you to reach your goals.
Alex Vargas
Alex is a 4th year ELAC student majoring in Biology and Natural Sciences. His goal is the transfer to a university by Fall 2022. Alex intends to pursue a career as a veterinarian.
Email: vargasa4@elac.edu
Phone: DialPad telephone number will be added soon.
Alex's schedule for the Winter 2022 session has not yet been determined, but we will update this page again once his hours are available.
---
Stephanie Tsao
Stephanie is a 3rd year ELAC student majoring in Economics. Her goal is to transfer to UCLA or UC Irvine to continue her studies in Economics.
Email: tsaoy2@elac.edu
Phone: DialPad telephone number will be added soon.
Stephanie's schedule for the Winter 2022 session has not yet been determined, but we will update this page again once her hours are available.
Contact Us
Office Hours and Location
Mondays to Thursdays: 8:00AM - 5:00PM
Fridays: 8:00AM - 2:00PM
Technology Building
E7-210