New Student Orientation
East Los Angeles College is committed to helping you achieve academic success. The online New Student Orientation will introduce important college policies and procedures, academic expectations, student support services and programs available.
All new students are required to complete the New Student Orientation.
Note: Allow at least 45 minutes to complete the online orientation. A certificate will be generated upon completion.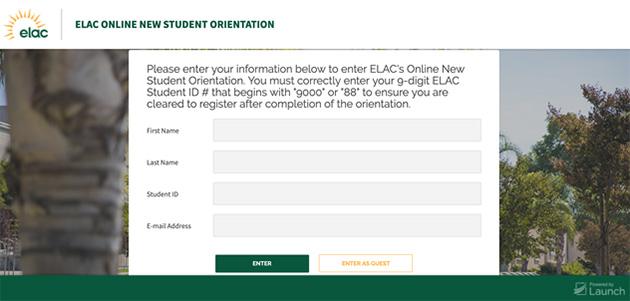 Next Step: Connect with a counselor through Live Chat for recommendations on courses for your first semester, also called an "Abbreviated Student Education Plan."
Next Step: Register for your courses during your Enrollment Period.
Announcements
Counseling appointments can be scheduled online starting Fridays @ 7:30am for the following week. Click the "Counseling Appointments" tab for more information.
Contact Information
Office Hours and Location
Monterey Park Campus:
Express Counseling Services
​Mondays to Thursdays: 9:00AM - 5:00PM
Fridays: 9:00AM - 12:00PM
Saturdays to Sundays: Closed
1301 Avenida Cesar Chavez
Monterey Park, CA 91754
Building E1-127 (Campus Map)
---
South Gate Educational Center:
Mondays to Thursdays: 8:00AM - 7:00PM
Fridays: 8:00AM - 3:30PM
Saturdays to Sundays: Closed
2340 Firestone Blvd. South Gate, CA 90280