ONLINE ALLIED HEALTH
---
Fast-Track Programs
SKILLS CERTIFICATE
CERTIFICATES OF ACHIEVEMENT
HEALTH INFORMATION TECHNOLOGY PROGRAM
Why Choose a Career in Health Information?
Health Information Technology professionals become experts in an ever-evolving industry which offers versatile employment opportunities.
Health Information Technology professionals acquire a focused skill set incorporating clinical, information technology, leadership, and management skills.
Health Information Technology professionals use their knowledge of IT and records management to meet the needs of clinicians, administrators, and information technology professionals working together to support quality patient care.
The East Los Angeles College Health Information Technology (HIT) Program is an associate of science degree that focuses on the collection of healthcare data. The areas of concentration are delivered through online instruction. In addition, students benefit from professional practicum which provides real-world experience in various healthcare environments. HIT professionals focus on the technical aspect of health information and work skillfully with software and hardware used in the management and storage of patient data in areas related to: coding, electronic medical records, health data analysis, and exchange of health information.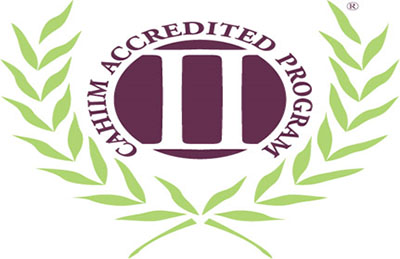 Learning Outcomes
Domain I. Data Structure, Content, and Information Governance
Students will be able to:
Describe healthcare organizations from the perspective of key stakeholders.
Apply policies, regulations, and standards to the management of information.
Identify policies and strategies to achieve data integrity.
Determine compliance of health record content within the health organization.
Explain the use of classification systems, clinical vocabularies, and nomenclatures.
Domain II. Information Protection: Access, Use, Disclosure, Privacy & Security
Students will be able to:
Apply health informatics concepts to the management of health information.
Utilize technologies for health information management.
Calculate statistics for healthcare operations.
Report health care data through graphical representations.
Describe research methodologies used in healthcare.
Describe the concepts of managing data.
Summarize standards for the exchange of health information.
Domain IV. Revenue Cycle Management
Students will be able to:
Validate assignment of diagnostic and procedural codes and groupings in accordance with official guidelines.
Describe components of revenue cycle management and clinical documentation improvement.
Summarize regulatory requirements and reimbursement methodologies.
Determine diagnosis and procedure codes according to official guidelines.
Evaluate revenue cycle processes.
Evaluate compliance with regulatory requirements and reimbursement methodologies.
Domain V. Health Law and Compliance
Students will be able to:
Apply legal processes impacting health information.
Demonstrate compliance with external forces.
Identify the components of risk management related to health information management.
Identify the impact of policy on health care.
Domain VI. Organizational Management and Leadership
Students will be able to:
Demonstrate fundamental leadership skills.
Identify the impact of organizational change.
Identify human resource strategies for organizational best practices.
Utilize data-driven performance improvement techniques for decision making.
Utilize financial management processes.
Examine behaviors that embrace cultural diversity.
Assess ethical standards of practice.
Describe consumer engagement activities.
Identify processes of workforce training for healthcare organizations.
| Cost | TOP |
| --- | --- |
| >Tuition | >$3,174.00 |
| >Fees | >$136.00 |
| >Books | >$3,000.00 |
| >Physical Exam | >$300 - $500 |
| >Background Check and Drug Screening | >$79.00 |
| >Registered Health Information Technology Exam | >$299.00 |
| >California Health Information Association Membership (optional) | >$20.00 |
| >American Health Information Management Association (optional) | >$49.00 |
Certifications available:
Registered Health Information Technology (RHIT) - https://www.ahima.org/certification-careers/certification-exams/rhit/
Job opportunities:
Health Information Technician
Coding Professional
Coding Trainer
Reimbursement and Insurance Manager
HIM Manager
HIM Supervisor
Privacy Officer
Compliance Officer
Data Analyst
Release of Information Specialist
Quality Improvement Analyst
Trauma Registrar
Health Occupations Program
One of the fastest growing career areas of employment today is in the medical or healthcare industry. Employment in the healthcare industry is in demand with ten of the top 20 fastest growing occupations in the United States as health-related according to the Bureau of Labor Statistics. Healthcare professionals enjoy great earning potential, amazing opportunities for rapid advancement, and flexibility in hours, location, and job types. The Health Occupations Program offer four courses that allow students to learn new skills that lead to a Health/Service Careers Foundational Skills Certificate (7.5 units) and/ or Gerontology/Health Certificate of Achievement (16.5 units), in collaboration with the Family, Child, and Consumer Studies Department. Students who complete these courses may exit for employment into an entry-level position in the healthcare industry, continue to earn an Associate Degrees offered within the Allied Health Department, or transfer credits to four year colleges and universities. In addition to providing education and training for those entering a new field of employment, the Health Occupations Program offers an avenue for professional development and the refinement of skills for those currently employed in healthcare.
SKILLS CERTIFICATE HEALTH OCCUPATION
Subject & No.
Course Units
HLTHOCC 062 Skill Set for the Healthcare Professional (Click on to go into the information)
2
HLTHOCC 063 Basic Medical Terminology, Pathophysiology and Pharmacology for the Healthcare Professional
2
HLTHOCC 064 Cultural and Legal Topics for Healthcare Professionals
1
HLTHOCC 065 Fundamentals for the Healthcare Professional
2.5
Total:
7.5
Health Information Technology (HIT)
This certificate program provides instruction and Professional Practice Education (PPE) to assist students in developing the technical skills necessary to maintain components of Health Information Systems consistent with the medical, ethical, legal, and administrative requirements of all accreditation and regulatory agencies.
Pharmacy Clerk
This certificate program is designed for those students seeking to gain Front Office Medical Assist
Front Office Medical Assist
Administrative Medical Assistant is a front-office professional who performs the clerical work in doctors' and hospital offices. These professionals are responsible for multiple tasks that include communicating with patients for case histories, scheduling appointments, electronic medical cod-ing, filing insurance claims, updating and maintaining records, as well as processing insurance claims for receivable and payable accounts and maintain financial records. In addition, administrative medical assistants collaborate with doctors and nurses to help with medical examinations, schedule tests and order supplies, ensure compliance with procedures, and keep up-to date with changes in medical and insurance legislation. Students learn proven work experience as a medical administrative assistant which include hands on experience with medical software and MS Office, knowledge of healthcare operations, familiarity with medical and insurance legislation, excellent organization-al and multitasking skills, and customer-oriented communication skills. An externship with local medical facilities will provide students with the opportunity to gain hands-on experience reinforcing classroom content into real world applications.
Please view the following video to learn how to add a class in SIS. Once you have completed the video you can then use the link button below to go to the SIS course search to find the course you need.