WELCOME TO THE RT DEPARTMENT
Welcome
---
A Message From Our Leadership Team
Welcome to the East Los Angeles College Respiratory Therapy Department Website. The Respiratory Therapy Program is a comprehensive and highly respected 2-year program that prepares students for a career in the Respiratory Care field. Our Program combines classroom instruction with hands-on laboratory and clinical experience to give students the skills and knowledge they need to succeed as Respiratory Therapists. Graduates of the program are in high demand and have a strong track record of success in their careers. If you're interested in a career that helps patients breathe better, that provides you with a chance to interact with patients, then the East Los Angeles College Respiratory Therapy Program is an excellent choice for you.
Respiratory Therapy Announcements
Respiratory Therapy Announcements
1. The Respiratory Therapy Application
If you have completed all the Respiratory Therapy Pre-requisites or are missing one or two classes, you can apply to the RT Program during the acceptance period, as long as you are enrolled and will complete all of the pre-requisites by the end of Spring 2024. See the Respiratory Therapy Application information towards the bottom of this page or email us at RTProgram@elac.edu if you have questions.
The Respiratory Therapy Program will be accepting applications for the 2024 RT Cohort starting Monday, September 11, 2023, through Wednesday, May 15, 2024, at exactly 11:59 p.m.
The link to the Respiratory Therapy Application can be found here:
Please read everything carefully and upload the appropriate documentation. There should be a confirmation email of submission at the end, take a screenshot or print it at the end for your records.
2. NEW: MATHEMATICS 245 PRE-REQUISITE:
As of June 2023, the Respiratory Therapy Program has changed the Mathematics Pre-Requisite needed to apply to the 2024 Respiratory Therapy Cohort. Anyone applying to the RT Program would need to have taken either:
Math 227 (Statistics), or;
Math 245 (College Algebra) or Higher Mathematics Class.
 2. ZOOM INFORMATIONAL MEETINGS:
The ELAC RT Department is happy to announce that we will be offering Fall 2023 RT Zoom Information Day Sessions for all potential students. During each of our Zoom sessions, we will provide you with information regarding the RT Pre-Requisites, the Application Process, and the Multi-Grading evaluation process. All sessions will end with a question and answer for you to ask our RT Directors and Faculty any concerns you might have regarding the Respiratory Therapy Program and Career.
Zoom Information for all FALL 2023 Sessions:
All Zoom dates will be held at the following
Zoom link: https://laccd.zoom.us/j/8959573673
 Meeting ID: 895 957 3673
| | |
| --- | --- |
| Date | Time |
| Monday, September 25, 2023 | Start Time at 6:00 PM |
| Thursday, October 30, 2023 | Start Time at 6:00 PM |
| Tuesday, November 28, 2023 | Start Time at 7:00 PM |
FOR IMMEDIATE RELEASE
August 6, 2020
Office of the President
(323) 265-8663 | PresidentsOffice@elac.edu
---
ELAC Respiratory Therapy Alumni, Andrew Ta, Recognized on ABC7 Health Care Heroes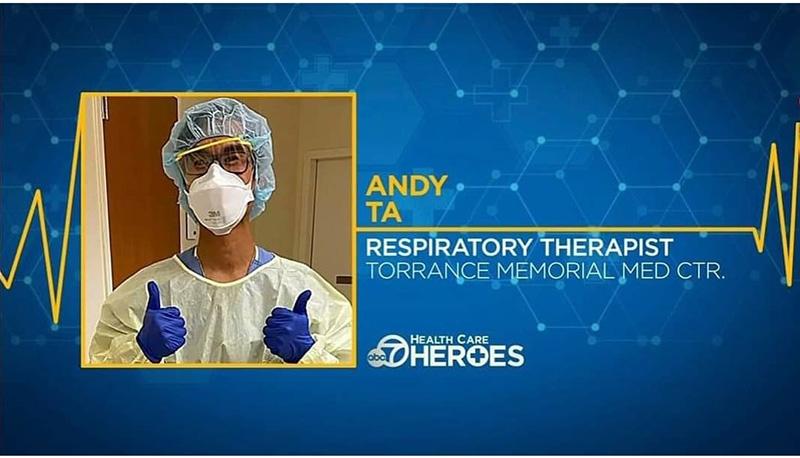 Monterey Park, CA – On August 4th at 5:00 p.m., ABC7 aired a video showing local Health Care Heroes featuring an alumnus of the East Los Angeles College Respiratory Therapy program, Mr. Andrew Ta. ABC7 Eyewitness News features individuals and groups who make SoCal strong every week.
Andy was nominated for this recognition by his Nurse Case Manager at Torrance Memorial Medical Center, where he currently works. Andy attended ELAC from the Summer of 2014 through the Fall of 2017, graduating with an AS degree in Respiratory Therapy. When asked what he enjoyed most about attending ELAC, Andy said, "It was a very engaging and fun environment to learn the field of respiratory therapy." After he graduated from ELAC, it took Andy about three months to find a job in the field that he studied for. "It's all about consistency," he said, referring to his job placement skills.
"Like so many of our students, Andy struggled at the beginning of the program, but he had a terrific work ethic that helped him persevere," said ELAC Respiratory Therapy Program Director and Professor, Ms. Kevin M. Booth. "Once he entered the clinical environment, he really 'got' it. Andy was very personable with and considerate of both his peers and instructors, but the most distinguishing factor for me was his smile, which unfortunately because of the COVID crisis, isn't visible in the ABC7 photo. I'm betting that it's there, though: a big, contagious grin that just makes everyone who sees it want to start smiling, too."
"It is truly rewarding to see one of our former students doing great work in our community, especially during these unprecedented times," said ELAC Interim President, Dr. Alberto J. Román.
Andy has been working at Torrance Memorial Medical Center for close to three years now, and is also currently enrolled at Boise State University to earn a BS degree in Respiratory Therapy.
The ABC7 Health Care Heroes video segment can be viewed below.
RESPIRATORY THERAPY APPLICATION INFORMATION
RT APPLICATION
---
APPLICATION PROCESS AND FORMS
The next RT Application submission period will begin in September 2023. Come back to this website in September to obtain the link to the RT Application for next year.
You must have completed the following prerequisites prior to applying:

RT-101: Survey of Respiratory Therapy. (2 Units)
HTH-TEK 133: Medical Terminology. (3 Units)
Anatomy 001 or Bio 020: Human Anatomy w/ Lab. (4 Units)
Physiology 001 or Bio 020: Human Physiology w/ Lab. (4 Units)
Chem 051 or 065: Introduction to General Chemistry. (4-5 Units)
Math 245 or higher.: College Algebra or Higher (4-5 Units); Math 227 (Statistics) will be accepted as well.
Comm 101 or Comm 121: Public Speaking (3 Units)
Commission on Accreditation for Respiratory Care
The Commission on Accreditation for Respiratory Therapy or CoARC is the Accrediting Body for the East Los Angeles Respiratory Therapy Program. Below is more information about CoARC:
CoARC accredits respiratory therapy education programs in the United States. To achieve this end, it utilizes an 'outcomes based' process. Programmatic outcomes are performance indicators that reflect the extent to which the educational goals of the program are achieved and by which program effectiveness is documented.CoARC's Outcome Webpage is https://coarc.com/students/programmatic-outcomes-data/
CoARC's Main Webpage is: www.coarc.com
East Los Angeles College's Respiratory Therapy Program Number is: 200102
Commission on Accreditation for Respiratory Care (CoARC) :
264 Precision Blvd, Telford, TN  37690
Website: www.coarc.com